There are ingredients you fall in love with. Maybe you come across them on one of your travels or thanks to the people who passionately grow them. And finally they make the road to your lab and you get to know them and every time you taste one, memories come back on the tip of the tongue. And time after time their scents and flavours become the stars of your best recipes.
This wonderfully scented green leaf that everybody finds delicious is where everything starts from in the story of the Vasetti.
Back in 1999 I met Mario Anfossi in his Ligurian farm in Bastia d'Albenga where he grows Genoese basil and we became friends. Years later we started working together and our friendship produced what we call IL PESTO: the one and only, a recipe where the typical Ligurian sauce is at its best, just like homemade.
Every time they ship to me fresh Genoese basil leaves from Liguria I also get friendship and love.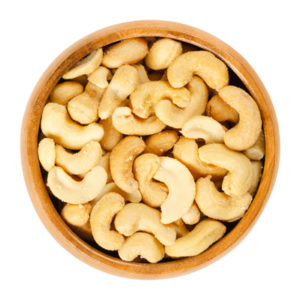 This precious nut has always been an essential element in my recipes: it is the perfect supporting actor for the leading ingredients, it enhances their flavour and brightens their colours. And, needless to say, it's delicious.
I only buy whole cashew nuts so that I can ground them myself and get their best flavour and consistency. My cashew nuts come from the farm Sao Françisco da Floresta in Guinea Bissau and are imported dry and vacuum packed by the charity co-operative society Tabanka of Verona.
First you feel enveloped in a world of colours. Then you lose yourself in their scents. The mind goes traveling and you can only dream of new recipes and combinations.
Red chilli pepper, ginger, mustard seeds, the curry powder, black pepper. All the spices I use in my little jars come from the fair trade company Podie in Sri Lanka and are imported by altromercato, the biggest Italian fair trade organization.